Paige In-call and Duo Treats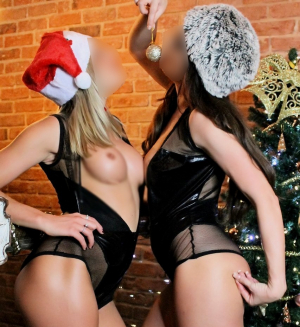 December 09, 2018
This weeks - weekly DEAL
On the first week of Christmas Aphrodite gives to you, a fantastic DUO TREAT
We are always asked if our stunning Cardiff escort Paige will ever be offering In-calls, we have been listening and this Monday 3pm - Tuesday 6pm you have the chance to book not only an In-call with the sexy blonde babe, but a complete double whammy Duo Treat with our favourite In-call babe Kate.
What do I get you ask?
Kate and Paige are offering a full hour of a steamy session for NOT £320 at the usual rate but a discounted Christmas Treat of £260 yes that a whopping £60 off!
Monday 6pm – 10pm & Tuesday 10am – 5pm
There are of course a few guidelines to book this fantastic deal as it's a one off and time is valuable to these two stunning ladies who have gone all out into giving you the wish you have been asking for.
1, The booking needs to be officially made calling our team not texting.
2, Any new clients or non-members, will be asked for a non-refundable deposit of £50 to ensure no time slots are wasted.
3, A time will be taken, and we do emphasise in giving yourself time to get to the location as late arrivals may lose out, as it can impact other bookings.
There you have it our first week of Christmas Deals, come back next week to see what we have in store for you then.
Please call 07730532328 to book today.