Sunday Funday - Football Fever Deals!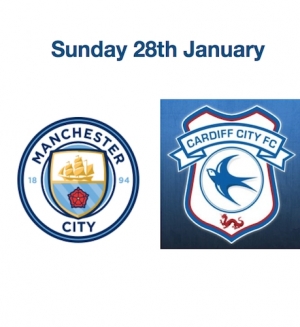 January 25, 2018
Football Fever Deals
We've talked a lot about the Rugby in our recent blogs, but being Welsh we are very sporty by nature and enjoy a wide array of different sports. Take football, for example, which we're well known for loving. The fixtures are really starting to get interesting and it's finally getting nice enough weather to watch them live without feeling like you're watching football in the shower!
Cardiff is facing off against Manchester City on Sunday for the 4th round of the FA cup, with a 4pm kick-off for an afternoon of your favourite footie mayhem. We're sure that everyone's going to have an absolutely fantastic time watching, but we figured we'd still try to make it better!
To celebrate the footie weekend, we thought we'd offer everyone a £20 discount per escort on all outcalls within a 15-mile radius pre-booked before Saturday 5pm if they mention the phrase 'Football Fever Deals'.
Just pick 2 of the fine young ladies from the available section and we'll send a lady of our choice to surprise you at the booked time and place!
There's really no better way to celebrate the weekend than some great football and some even better fun with one of our gorgeous professional escorts. Football may be described as 'food for the soul', but it would be a mistake to forget your body in all of that. And trust us - our talented professionals know exactly how to get the most out of that!
So, whether you're one of our fine, loyal Welsh supporters or you're one of the Manchester City fans who've come all this way to get your butts kicked (sorry, lads!) then let us know and we'll make sure that come rain or shine, victory or defeat, our girls will be there to help you celebrate your stunning victory or help you forget all about that unfortunate loss.
What's the only thing better than having one of Aphrodite Escorts' highly reviewed, professional, young, athletic, stunningly gorgeous escorts to spend some time with you this weekend? Getting one of the same ladies at £20 off!
To book or make an enquiry, please feel free to call us on 07730-532-328 between 10am and Midnight where our helpful receptionists can make your booking or use their years of expertise to recommend the right lady for you.
Alternatively, you can use the online booking service which is open 24 hours if you know precisely who you're looking to spend your quality time with. Whichever method you choose, be sure to book before Saturday for your 'Football deal' we know you'll have a fantastic time!