Spooktacular Week!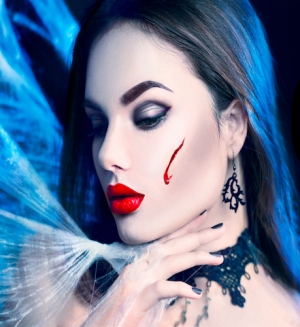 Special occasions are always a big deal here at Aphrodite escorts. Cardiff girls are very fun orientated and love to get stuck in, which is a great match up to holiday events and activities. Happily getting dressed up and heading out to town to enjoy their night off, many of our escorts came up with some amazing costumes and really loved the chance to dress themselves up in some more unusual costumes than their usual fare. Even the girls who normally aren't known for their uniforms, outfits and other such things got really into the spirit and got all scared up!
Aphrodite Escorts may be the best business around but it is still a business at the end of the day – and that means someone always has to be on shift, even on special occasions. Luckily this is an amazingly fun job that all of our girls love, so it wasn't a drag at all for the hot, professional young Welsh escorts who were working on Halloween night. Like most special occasions, Aphrodite was as busy as ever, considering it was not only a special occasion but for most people it was also payday!
The end of October and beginning of November are always big times for escorting as people get the last of their Autumn blues out of the way before the ramp-up to the Christmas period. Yes! We're finally allowed to use the word Christmas in our blogs now that it's November! Woohoo! Carols are still banned in the office until December though, unfortunately!
It was an exciting weekend for Rugby as well, with a Wales 21 – 10 Scotland victory at Principality Stadium which saw Welsh pride well and truly restored after a difficult football season. At least Rugby swept in last minute to save us all! They're playing legendary Australia on the 10th November, once again at Principality, so make sure to get tickets for that and grab an escort to go with you!
It may feel like a bit of a gap between now and the big Christmas holiday but there is plenty of other sport to get you by. Wales are playing Denmark in football on 16th November at 19:45, and playing Albania on the 20th at 19:00.
Call us on 07730-532-328 to ensure that you get your booking confirmed in minutes! The only regret you'll ever have is that you didn't book sooner! Who knows – you might find you have a brand new favourite!