Secret Santa Is Back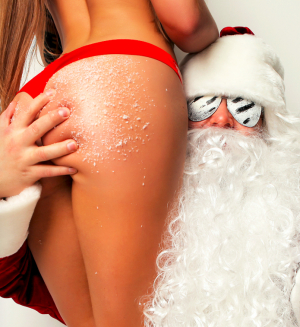 It's been a fantastic couple of weeks lately, with lots of our escorts being very busy. It's also finally December, so we can start getting the decorations up and really begin getting into the Christmas spirit. We've had several new girls join us lately who are all doing extremely well and proving very popular which is always wonderful to see. Make sure to check them out in our 'New Girls' section of the gallery! We have new student escorts, teen escorts, more experienced escorts, touring escorts and more who are new to the team so why not treat yourself and take a look?
We're also finally into December which is great news for all of the more excitable girls in our roster. Partially because they love Christmas, partially because they get to be Christmassy with clients, but mostly because they're finally allowed to mention the dreaded Christmas word around the office!
To answer one of the most common questions we get as we get into the final month of the year - yes! Secret Santa IS back. From the 13th of December to the 31st of December, you can call us and quote 'Secret Santa' to get access to our secret Christmas deal. This was a huge hit last year and we're very happy to be bringing it back again.
You can get a 1.5 hour booking for the price of only 1 hour. Tell us your selection of 3 girls and we'll send a random one to your door. That way you get to surprise yourself with a truly stunning escort - and at a significant discount too! What's the point of it being almost Christmas if you can't let us treat you once in a while? Or even better - let us treat you quite regularly! We're as happy about this as you are!
Make sure to check the website regularly for any new deals or tips on the run up to Christmas, as this is surely our most generous time of year. You would hate to miss out on something amazing just because you forgot to check! Don't worry too much though, we'll also be letting you know via these blogs if anything truly mind blowing comes up.
Call us on 07730-532-328 to ensure that you get your booking confirmed in minutes! The only regret you'll ever have is that you didn't book sooner! Who knows – you might find you have a brand-new favourite!