Miss Owens Strikes Again!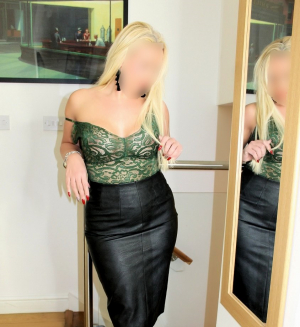 Frankie or rather 'Miss Owens', stood there before a naked Martin whilst wearing her school headmistress cap and cropped gown. Underneath she wore nothing but pointed black stilettos, black sheer stockings and white satin knickers with black lace detail. Her full 38D tits were perfectly pert and to attention. Martin had never seen anything like it before. Out of all the other women in South Wales, Frankie was one of the best.
"Martin, did you hear me? I said you must've been really naughty to end up in detention, again." Frankie smacked her palm with her thin bamboo cane and the 'whoosh' whipped through the air.
"Yes, Miss Owens. I've been very very bad. I deserve all my punishment." Martin was kneeling on the floor in front of Frankie, head bowed.
"Good. Now get up, bend over and put your hands on the bed." Frankie flipped her luscious blonde hair over her shoulder stood beside Martin. She caressed the soft skin of his behind and Martin felt all his nerves prickle and every hair stand on edge in anticipation of what was to come. This wasn't his first time with Frankie, but it always felt like it did. "Because you've been so bad, you shall have ten strikes. And you're going to count them aloud."
Martin closed his eyes and took a breath. After a beat, nothing happened. Then suddenly, CRACK! Frankie's cane whizzed through their air and landed on Martin with such force he nearly fell forward.
"Argh!" Martin cried out loud.
"Excuse me?" Frankie said annoyed.
"One."
"That's better." Frankie stroked his skin as the subtle welt started to appear. After ten strikes, Martin's backside looked lovely and bright red. On his last strike, he tried to shout "ten" but his voice was too hoarse from the pain. He turned over to find Frankie with a huge sparkling smile on her face. He smiled too and let out a little chuckle.
"Very good, Martin. But I still don't think you've learned your lesson. Up." She motioned up towards the head of the bed and Martin quickly crawled backwards, as fast as his stinging arse would all allow. Frankie let her gown slip off her shoulders and kneeled on the bed, over Martin's raging boner. She took his cock her hand and rubbed it along her slippery smooth satin covered pussy. Martin tensed and gripped the bedsheets. She caressed Martin's length gently and teasingly, so much so that it was one step off from a tickle. Martin twisted in delighted agony and covered his face with his hands. Frankie whipped the bed beside Martin's head. "Hey, hands down." Martin placed his hands by his side and scrunched the bedsheets so hard his knuckles turned white. All the while Frankie continued to stroke him.
Not after too long Frankie began to pick up her pace and as she did, Martin's breaths became short and quick. He was quickly coming to his sweet release, but Frankie had other plans. With a smirk, she cooed, "Oh, I don't think so." …To be continued!
If you feel you can handle the sultry Frankie and her role play scenarios' then give us a call and we can book you in for a spanking great time. Frankie covers Cardiff, Newport, Bridgend, Swansea and South Wales outcalls only.
Call 07730532328 to make an enquiry. Calls only Texts will not be responded to, unless you are ne of our Members.