Casino Nights In Cardiff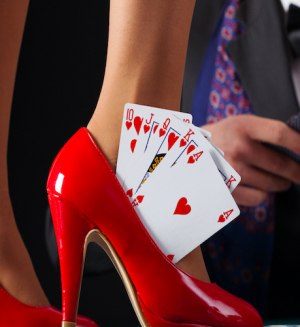 It's been a big week since our last blog, with a whole bunch of cool stuff happening as per usual. First and foremost, though, we know everyone is dying to hear about our incredibly gorgeous curvy young escort Ruby who joined us last week. Her profile is all up and running now, and you can go and have a good look at her stunning figure, dazzling smile, sultry eyes and absolutely jaw-dropping bust. What the pictures don't show is her warm personality, sharp wit and undeniable charisma – but that's what bookings are for! You'll all be glad to know that she is settling in really well and is very happy with her work. As are her clients! We expected positive feedback but the overly happy reaction from clients has been overwhelming!
It's been a week of big bookings for most of our Swansea escorts, with many gentlemen (and the occasional lady!) taking advantage of our very competitive pricing by booking longer visits with our escorts. These needn't just be in hotel rooms or at your residence, however. Our stunning young Welsh escorts love getting out and about, and absolutely adore anything with a bit of glam.
Fortunately for them they've been treated to a few casino dates this week which they've loved. It's not only a chance to play some games and have a lot of fun, but it's also a great opportunity to dress up nicely and be fancy for a while. Trust us when we say that you don't know what it is to look glamorous and sophisticated until you enter a room with one of our girls on your arm!
The revelry and outgoing activities have not been limited to casinos, either. Many of our escorts have had longer bookings out in the town centre at parties and nightclubs with a variety of clients. There's nothing our party escorts love more than putting on something irresistible and hitting the town – especially when it's with a client who knows how to have a good time.
It's been an unfortunate week for sports in more than one respect, with a much loved presenter becoming ill in the Football world and a shocking helicopter crash which rocked it even further. Fortunately, we do have something to look forward to in Rugby. Wales v Scotland takes place in Principality stadium on 3rd November this week, kicking off at 14:45. Don't miss it! Should you go in person, don't forget that our escorts are happy to accompany you as well.
Call us on 07730-532-328 to ensure that you get your booking confirmed in minutes! The only regret you'll ever have is that you didn't book sooner! Who knows – you might find you have a brand new favourite!