Christmas In Cardiff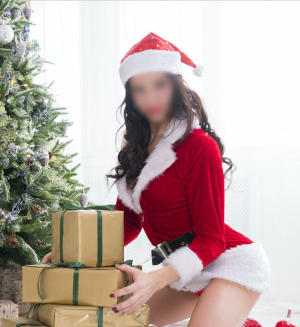 Well, last week's dynamic duo went down a real treat here at Aphrodite, with many of you wisely competing to be the first to snap up that spectacular deal. We expected it to be popular, but in the end it surpassed even our generous expectations. We're very sorry to those who desperately wanted to be a part of it but were too late, however we know that this lesson will be taken on board and that you'll be calling as soon as this blog is released to avoid a repeat!
We have plenty more treats this week as we begin the second week of Aphrodite's special Christmas deals. Check out our homepage for more information on the who, what, where, why and when so that you don't miss out on this truly spectacular deal and make yourself have a very merry Christmas indeed! We can tell you that Nicole and Megan are doing some great In-calls Monday, and the stunning Imogen and Kate on Tuesday and Tara Wednesday - Friday as if you needed enticing any more whatsoever!
Of course, here at Aphrodite we don't believe in offering just the one amazing deal at a time. That's partially why our Secret Santadeals are still running. Choose between 3 eligible escorts and we will send one of them to you as a surprise. No matter which of your choices you open the door to, we guarantee that you'll be more than satisfied, because each experience with one of our young professional Welsh escorts is unique in its own way – as well as completely out of this world. We only recruit the best, and it absolutely shows!
There are non-Aphrodite events and parties kicking off all over Cardiff from now until Christmas, including 'Christmas Revs' on the 20th December at Revolution, Cardiff, from 10pm until 3am. If a 'festive rap battle' is more your thing (and how could it not be???), then you have Gwdihw in Cardiff hosting one on Friday 21st December from 9pm until 2am. On top of that there's a bunch of non-festive parties at the city's nightlife hotspots this week, but we know how much you all love a bit of tinsel!
Call us on 07730-532-328 to ensure that you get your booking confirmed in minutes! The only regret you'll ever have is that you didn't book sooner! Who knows – you might find you have a brand new favourite! Or ten, because as we all know it can be impossible to decide when faced with this much sheer perfection in one go.