Christmas Dating Scene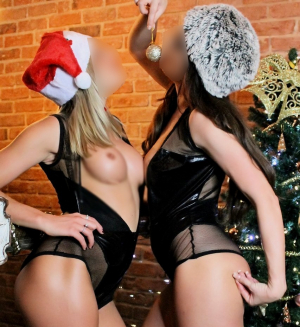 It finally arrived! December came around this weekend just gone and we couldn't be more excited. The C-Word embargo has been lifted. We can now officially talk about…CHRISTMAS!!! It's only a couple of weeks away and all of us here at Aphrodite are fairly confident that you can now see our office from space due to the fairy lights alone. That's not even counting the fact that the interior is now around 40% pure tinsel.
As for our Cardiff escorts, they too have some Christmassy news. Their Christmas images are now live! Head over to the gallery and take a look at our stunning young escorts in all of their festive beauty. Be warned, though, that there's no way you're going to be checking those out and not making a booking, so make sure to free up some time in your week.
Examples of the steamy images include Kate and Paige in their sexy PVC and black lace outfits which leave very little to the imagination. We did our best to try and keep them mostly apart to leave a little 'unsaid', but naturally the situation quickly devolved into them crawling all over each other and getting things hot and heavy. Their sex drive is just too high for a normal shoot! Luckily we caught it all on camera to share with their adoring public!
It's not just the jaw-dropping new images that are festive either. Our escorts are all incredibly looking forward to the Christmas period and are all hoping for a bit of snow. As long as there is a lucky gent somewhere in Wales to keep them warm, that is. It's a Christmas tradition here to head down and see the Coca Cola truck when it comes to town. We've all seen the adverts, but our escorts can't help but head down and see the real thing for themselves when it heads into Cardiff.
We are releasing a brand new Christmas Video and will be running a series of Christmas Deals throughout December using codes we will be sharing on our newsfeeds. Make sure to keep a close eye out so that you don't miss anything!
Christmas alone totally sucks, so it's natural to want to find someone to spend the festive period with. One example is Mock Lounge who's running speed dating the 11th December for those single pringles in and around Wales who want to meet someone cool. If that's not your scene because you're not a fan of traditional dating (or you've spent so much time on your smartphone that you can't interact with people face to face anymore), use the speed dial feature to call us instead! Or, even better, why not both? Leave no stone unturned!
Call us on 07730-532-328 to ensure that you get your booking confirmed in minutes! The only regret you'll ever have is that you didn't book sooner! Who knows – you might find you have a brand new favourite!