Duo escort experience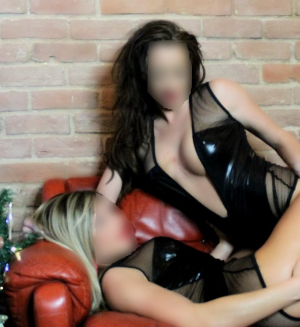 Duo bookings with Aphrodite escorts really are the epitome of pleasure and are certainly an experience that one remembers for the rest of their life. They are not only double of everything you get in a normal escort booking, but they complement each other and work together so well that they really are more than the sum of their parts. In essence, you're not booking two individual escorts – you're booking a well-oiled (sometimes literally!) professional team who have only one objective: Your Total Satisfaction!
What's most noticeable about our duo escorts is that they all genuinely enjoy the female body just as much as the male one. You can always tell when some lesser agencies just stick two random escorts together as a 'team' and tell them to just pretend to be into each other. It's a jarring, not very seamless experience which the client can always tell has been staged. It wastes everyone's time and most importantly the client's money. Fortunately, there's none of that here at Aphrodite because all of our duo escorts are truly bi-sexual, and most have all worked together before. That means not only are they super excited to work together but they all know just what each other like!
To ensure the best experience in a duo booking, please ask reception on calling to recommend the right ladies to work together, rather than choosing two you like.
One of our most popular dynamic duos are Kate & Paige. Whereas in some other agencies it can be difficult to get two girls to get it on, our issue is the total reverse. We put a lot of time and effort into making sure to keep Kate & Paige on their best behaviour via a hands-off policy until the booking actually starts! They're that eager to get at each other. Don't worry about being left out, though, because you will be left in awe at just how much attention two escorts can pay to one lucky client.
Fortunately, our duo girls are also pretty flexible with their advance bookings. You can come and visit them in a very high-end location of their own in Cardiff Bay, or they can come to you and save you all of the hassle involved in travelling. Blending in with complete discretion, no-one but you will ever know they were there. Make sure to specify meeting arrangements in your booking call so that the booking can be absolutely 100% convenient for you.
If you've never had a duo booking before, we certainly recommend it. Whether it's a Brunette Babe, a gorgeous Blonde Escort or a wonderful, just-joined New Escort, all of the girls here at Aphrodite escorts are very experienced, genuinely bi-sexual and truly do enjoy their work. Call us on 07730 532328 to ensure that you get your booking confirmed in minutes! The only regret you'll ever have is that you didn't book sooner!