Me Time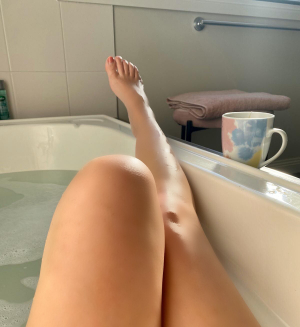 Hi everyone, sorry for not posting an update any sooner but to be honest I didn't really know what to say.
Im sure we are all feeling the same way now with the monotony of our day to day lives, so this week I have decided to embrace some of my new found free time and concentrate on home workouts. I have been doing these every morning to kick start those vital endorphins (a healthy alternative to chocolate was required) as well as to boost my mood for the day. Now we all know how I love nothing more than getting all hot and sweaty, but boy is it so much more fun when your not alone!
As another little treat to myself I decided on a pamper session, nails, waxing and not forgetting a nice face mask. Just feeling the warm liquid oozing onto my face sent my mind to an incredible place, now if only I could remember where I have experienced that before...
Anyway, on that note, I think its time to replace some batteries in my favourite toys (again) and enjoy some 'me' time in the tub, reminiscing about our times together of course.
I cant wait to be able to visit you again when its safe to do so and hope that you are safe and well?
Imogen xx