A Long Awaited Hug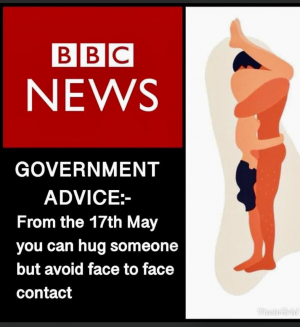 As you all know by now we at Aphrodite take covid restrictions very, very seriously. It is for this reason that we will be fully embracing the latest government guidance when it comes to hugs.
From now on we will minimise face to face contact and concentrate all of our attention on other areas (illustration provided) ;) Im sure that we will have the full support of our lovely clients! I know that the Aphrodite ladies are eagerly awaiting giving and of course receiving their favourite type of hugs once more. They have been denied the immense pleasure for far too long now. Whilst we know that this new set of rules only applies to those of us in England from May 17th, we were hoping that Mark Drakeford would be equally as nice as Boris Johnson and allow the same here in Wales in his announcement on Friday. Unfortunately though that wasn't the case and those of us the welsh side of the bridge need to wait a while longer. We all know that only the Welsh can "cwtch" and we can't wait to release our inner naughtiness by sharing lots of very special cwtch's just as soon as we can. Until then we will just have to be be grateful for what we can now do again, which of course involves travelling across said bridge;)
Now that we can finally meet up to dine indoors or enjoy a leisurely drink with you again, plus the return to some of their favourite hotels for a more intimate meeting is almost sending them over the edge with excitement. With more than just their mouths watering just thinking about what's to come ;) its safe to say that the ladies are eagerly awaiting the influx of bookings and the welcome return to business as usual. So what are you all waiting for? Pick up the phone and get booking! You know how popular the ladies are and you wouldn't want to miss out on catch up with your favourite now would you?